Quick-Order Section
(No images)
Print-Out Order Form
(for FAX or Mail orders)
Donnelly/Colt
Box 188
Hampton, CT
06247

(860) 455-9621
FAX (860) 455-9597



Can't find something you're looking for? Just ask, and we'll let you know if we have it or can get it.
Monday, March 10.


Donnelly/Colt Progressive Resources is a family-owned and operated mailorder business that has been designing and distributing progressive materials promoting peace, social and environmental justice and human rights since 1975.

We offer over 1,400 items in stock for retail & wholesale purchase. Almost all the items are union-made and union printed in the U.S. Handmade items are third-party certified as fair trade produced.

New items are added throughout the year to our in-stock catalogue. Our order form is 100% secure.

WHOLESALE PRICING is also available, see Ordering Policies.

We also offer wholesale CUSTOM PRINTING for more than 20 kinds of products for you or your organization, business, campaign, project, club, band or special event.

Since 2009 we generate our electricity from 46 solar photovoltaic panels on the roof that power our home and business.


Poster: Martin Luther King Jr. Quote: "The ultimate weakness of violence is that it is a descending spiral..."
$18.00 $15.00 On Sale!
P-TUW
18" x 24" • Click on title for the rest of the quotation text of the poster...



Poster: Martin Luther King
$18.00 $15.00 On Sale!
P-MLK
17" x 22" 2 color poster • Photograph by Bob Fitch • Published by Resource Center for Nonviolence, Santa Cruz, CA



Postcard: "A Nation That Continues..." (M.L.K. Quote)
$0.95
PC-NTC
4" x 6" Postcard • union printed • 2013



Button: "Darkness cannot drive out darkness: only light can do that. Hate cannot drive out hate: only love can do that." - Dr. Martin Luther King, Jr.
$1.00
1" x 2" • Quote from M.L.K. (1967) from his book "Where Do We Go From Here?" DCDO



Bumpersticker: "The moral arc of the universe is long, but it bends toward justice." --Martin Luther King Jr.
$2.00 $1.00 On Sale!
S-MAU



Button: "True Peace is Not Merely the Absence of Tension. It is the Presence of Justice" MLK
$1.00 $1.50 On Sale!
MLK
(2" x 2" Square Button) • a perennial favorite button to commemorate his birthday and national holiday in the U.S. every January 15th, or the date of his 1963 March On Washington (August 28th) or of his Riverside Church speech, "Why I'm Opposed to the War In Vietnam" (April 4, 1967 – one year before his assassination).



T-Shirt: "Freedom is never voluntarily given by the oppressor / It must be demanded by the oppressed." (MLK)
$15.00
T-K&X
By chance, Martin Luther King and Malcolm X met in person for the first and regrettably, the only time, in Washington, D.C. in 1964. They mutually disagreed, but at this encounter they both spoke out against a filibuster of the Civil Rights Act of 1964. Both of these martyred activists' views and visions were essential in the slow, hard work of advancing progress for humanity. This is the only photograph ever taken of the two of them together.



Poster: Thank You Sister Rosa Parks
$12.00 $9.00 On Sale!
P-RP
"You Are The Spark That Started Our Freedom Movement. Thank You Sister Rosa Parks." Text is from the song "Thank You Sister Rosa" by the Neville Brothers (1988) • Donnelly/Colt, 1990 • 11" x 17", union printed on recycled paper. Photograph of Rosa Parks taken in 1956.
Rosa Parks initiated the Montgomery Bus Boycott when she refused to move tio the back of a city bus on December 1, 1955. The boycott lasted more than one year, , ultimately changing the discriminatory law that required black bus riders to move to the back of the bus if a white rider wanted their seat.



Book: Great Peacemakers: True Stories From Around The World
$27.00 $22.00 On Sale!
BK-GPM
by Ken Beller & Heather Chase • 2008 • Middle/High School, College/Adult • Hardcover
This book tells the true life stories of 20 great peacemakers from around the world, including famous leaders such as Mahatma Gandhi and Martin Luther King, Jr., as well as lesser-known individuals from various walks of life who are making a positive difference in the world. Winner of 30 book awards!
• "Powerful, well-researched and, above all, timely, Great Peacemakers should be required reading for the youth of the world. Classrooms are flooded with history textbooks that celebrate military heroes. It is long past time that our children learn from books that celebrate peace."
—Dr. Oscar Arias
president of Costa Rica and recipient of the Nobel Peace Prize

Ask about deep discounts as much as 45% off list price!

• Click on title for more endorsements and reviews of this important new book.



Poster: Barack Obama (quote from his speech on racism)
$18.00 $9.00 On Sale!
P-OBAMA
22"x18" black on coated 100 lb.heavyweight matte finish stock. Not sold in stores or other catalogues or websites.

"I will never forget that the only reason that I'm standing here today is because somebody, somewhere stood up for me when it was risky. Stood up when it was hard. Stood up when it wasn't popular. And because that somebody stood up, a few more stood up. And then a few thousand stood up. And then a few million stood up. And standing up, with courage and clear purpose, they somehow managed to change the world."
- Barack Obama



Poster: No Struggle No Progress - Frederick Douglass P-NSNP
$14.00
18" x 24" • 100 pound poster stock • union printed • 2013
"...Power concedes nothing without a struggle. It never did and it never will. - August 3, 1857" Biographic notes on poster outline many facets of this remarkable man's life: abolitionist, women's rights advocate, orator, publisher, theoretician. Sponsor: Onondaga Historical Assoc. cnyhistory.org



Poster: King 1967 Speech
$10.00 $5.00 On Sale!
P-KING
(Donnelly/Colt design ©1994). Recycled paper. 11"x17"
• Click on title for full text of quotation...



Poster: Audre Lorde
$18.00 $12.00 On Sale!
P-AL
Stunning, colorized photograph of poet Audre Lorde with the quote: "When I dare to be powerful, to use my strength in the service of my vision, then it becomes less and less important whether I am afraid." - Audre Lorde (1934-1992)
In her own words, she was a "Black, lesbian, mother, warrior poet" as well as an acivist, teacher, cancer survivor, author of 17 books of prose and poetry. (Syracuse Cultural Workers, 1994) 23"x23".



Poster: Nelson Mandela - The Struggle Is My Life
$12.00 $9.00 On Sale!
11" x 17" • 2013
Also available as a postcard PC-NM



Postcard: "If you want to see the brave, look at those who can forgive." (Bhagavad Gita) "We must find an alternative to violence. The eye for an eye philosophy leaves everybody blind." (Martin Luther King)
$0.95
PC-BGMLK
Over-size postcard: 5" x 7"



Poster: All My Heroes Have FBI Files
$8.00
11" x 17" • 67 pound cover stock • 2013 • also available as a postcard (PC-AMH)
How many can you name? These people are dangerous? Tupac Shakur, Bob Dylan, Lucy, Jimi Hendrix, Albert Einstein, John Lennon, Malcolm X, Janis Joplin, Lenny Bruce, Cesar Chavez, (Who?, Who?), Marilyn Monroe, (Who? artist), (Who?), Jane Fonda, Abbie Hoffman, (Who?), Martin Luther King, Andy Warhol, (and who?)



Button: Stop Racism at Home and Abroad
$1.00
SRHA
(1" Button)



Button: Celebrate Diversity
$1.50
CD
CD
1" x 2" Rectangular Button • design by Donnelly/Colt © 1990



Button: Hate
$1.00
HATE
(1.25" Button)



Button: Our Problems Stem from Our Acceptance of this Filthy Rotten System
$1.00
OPS
(1.25" Button)



Poster: Never Doubt
$18.00 $12.00 On Sale!
P-MMQ
"Never doubt that a small group of thoughtful committed citizens can change the world. Indeed, it's the only thing that ever has." Margaret Mead Quote (Donnelly/Colt ©1995). 11"x17". Heavy-weight 110 pound recycled stock.



Poster: Cry rage, freedom's child
$10.00
P-CRFC
Freedom's child
You have been denied too long
Fill your lungs and cry rage
Step foward and take your rightful place
You're not going to grow up
Knocking at the back door
For you there will be no travelling
Third class enforced by law
With segregated schooling and sitting on the floor
The rivers of our land, mountian tops
And the shore
It's yours, you will not be denied anymore



Button: If You Think The System Is Working Ask Someone Who Isn't
$1.00 $0.50 On Sale!
SYSTEM
(1.5" Button) Unemployed special on sale from now on...



Bumpersticker: If you think the system is working ask someone who isn't
$2.00 $1.00 On Sale!
S-SYSTEM
Unemployed special on sale from now on...



Poster: How To Build Community
$18.00
P-HTBC
12" x 36" • Designed by Karen Kerney • watercolor • also available as postcard P-HTBC
TEXT:
Turn off your TV • Leave your house • Know your neighbors • Look up when you are walking • Greet people • Sit on your stoop • Plant flowers • Use your library • Play together • Buy from local merchants • Share what you have • Help a lost dog • Take children to the park • Garden together • Support neighborhood schools • Fix it even if you didn't break it • Have pot lucks • Honor elders • Pick up litter • Read stories aloud • Dance in the street • Talk to the mail carrier • Listen to the birds • Put up a swing • Help carry something heavy • Barter for your goods • Start a tradition • Ask a question • Hire young people for odd jobs • Organize a block party • Bake extra and share • Ask for help when you need it • Open your shades • Sing together • Share your skills • Take back the night • Turn up the music • Turn down the music • Listen before you react to anger • Mediate a conflict • Seek to understand • Learn from new and uncomfortable angles • Know that no one is silent though many are not heard • Work to change this.



Poster: Towards a Just Peace: Feed, Teach, House, Employ
$10.00
P-TAJP
P-TAJP
11" x 17" • 2010/1985 • 80 pound cover stock
From apartheid-era South Africa, End Conscription Campaign. Also available as a T-Shirt (T-TAJP)



T-Shirt: Towards A Just Peace: Feed / Teach / House / Employ
$25.00 $18.00 On Sale!
T-TAJP
100% Cotton • Union-made & printed in U.S. • The words on the graphic are universal and timeless: "Towards a just peace... Feed, Teach, House, Employ" Now printed using discharge dye water-based screenprinting for a soft feel, instead of Plastisol inks – the standard, heavy, non-porous inks used in screenprinting.
• Click on title for the rest of the story . . .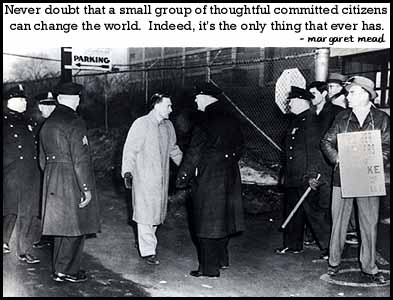 James Donnelly (Kate's father, 1917-1986) negotiating
with police as vice-president of his local United Rubber
Workers union, on strike in West Haven, CT in 1953.
• We now have a Quick-Order Section without images so that you can find what you're looking for more easily if you have a slow Internet connection.
• We've put together a collection of our favorite progressive web sites. Be sure to check them out, and let us know if there are any great sites we're missing!

• Customer Comments we've received over the years.
To subscribe to our very occasional (3-5 times a year) newsletter to receive news about new products and special deals, enter your email address below and click Subscribe.
To unsubscribe, enter your email address below and click "unsubscribe".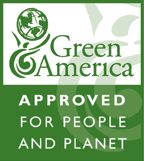 Back to top of page.